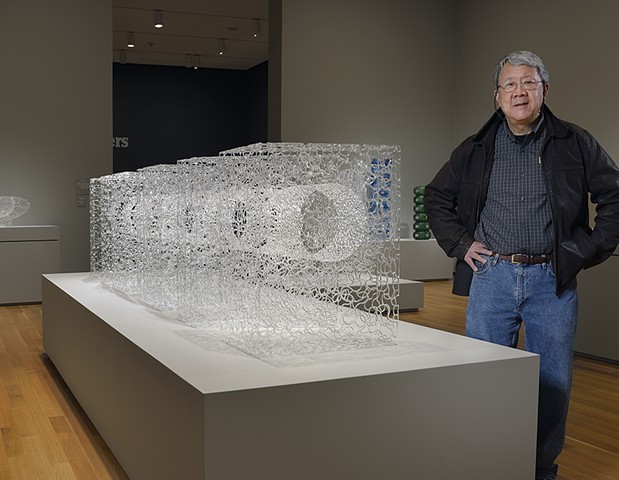 Brent Kee Young, glass artist and Cleveland Institute of Art professor emeritus, has been recognized by scores of museums, galleries, colleges and universities in the United States and Asia, which have displayed and acquired his work and invited him to speak, demonstrate and teach. In 2006, the Smithsonian American Art Museum's Renwick Gallery acquired its second piece by Professor Young for its permanent collection. "Amphora....Save" is from Professor Young's Matrix Series, a construction of intricate and technically complex works he created by flame working borosilicate glass rods into layers of glass webs. Also in 2011, Professor Young was selected to receive a most prestigious Creative Workforce Fellowship, generously supported by the citizens of Cuyahoga County, Ohio where he lives and works. In 2012 his work was published in 50 Years of Studio Glass, a selection of 50 top glass artists working world-wide.
Professor Young has conducted numerous workshops in the U.S. and Asia including at The Niijima International Glass Art Festival, Niijima, Tokyo; the International Glass Art Society Conference, Seto, Japan; Grand Crystal, Peitou City, Taiwan, ROC; University of Miami, Coral Gables; Southern Illinois University, Edwardsville; University of Kentucky, Louisville; and California Polytechnic University, San Louis Obispo. He has served as a juror for The National Endowment for the Arts and lectured at the Smithsonian Institution's Renwick Gallery. In 1990, Professor Young was selected as head of glass at Aichi University of Education, Kariya, Japan where he was responsible for establishing the studio, designing and implementing the curriculum and teaching the first glass program in a national university in Japan.
Currently retired from teaching, Professor Young continues his inquiries into the mysteries that working with glass has to offer....
Image: Brent with Matrix Series: "Cubism, Contiguous Lineage.... Interrupted", 2012, Akron Art Museum, OH. Now collection of Imagine Museum, St. Petersburg, FL.
Selected Permanent Public Collections
• Art Institute of Chicago, IL • Birmingham Museum of Art, AL • Carnegie Museum of Art, Pittsburgh, PA • Cleveland Museum of Art, OH • Columbia Museum of Art, SC • Contemporary Glass Art Museum of Alcorcón (Madrid), Spain • Corning Museum of Glass, NY • Fuller Craft Museum, Brockton, MA • High Museum of Art, Atlanta, GA • Hokkaido Museum of Modern Art, Sapporo, Japan • Imagine Museum, St. Petersburg, FL • Lannan Foundation, Palm Beach, FL • Leigh Yawkey Woodson Art Museum, Wausau, WI • Milwaukee Public Museum, WI • Morris Museum of Art, August, GA • Museum of American Glass of Wheaton Arts and Cultural Center, Millville, NJ • Museum of Fine Arts, Boston, MA • Museum of Fine Art, Santa Fe, NM • Museum of Glass, Tacoma, WA • New Orleans Museum of Art, LA • Niijima Contemporary Glass Art Museum, Tokyo, Japan • North Carolina Museum of Art, Raleigh, NC • Racine Art Museum, WI • Smithsonian American Art Museum Renwick Gallery, Washington, DC • Telfair Museum of Art, Savannah, GA • Toledo Museum of Art, Glass Pavilion, OH •
Brent's work is represented by
• Habatat Gallery, Royal Oak, MI
• Hawk Galleries, Columbus, OH
• Melissa Morgan Fine Art, Palm Desert, CA
• RARE Gallery, Jackson, WY